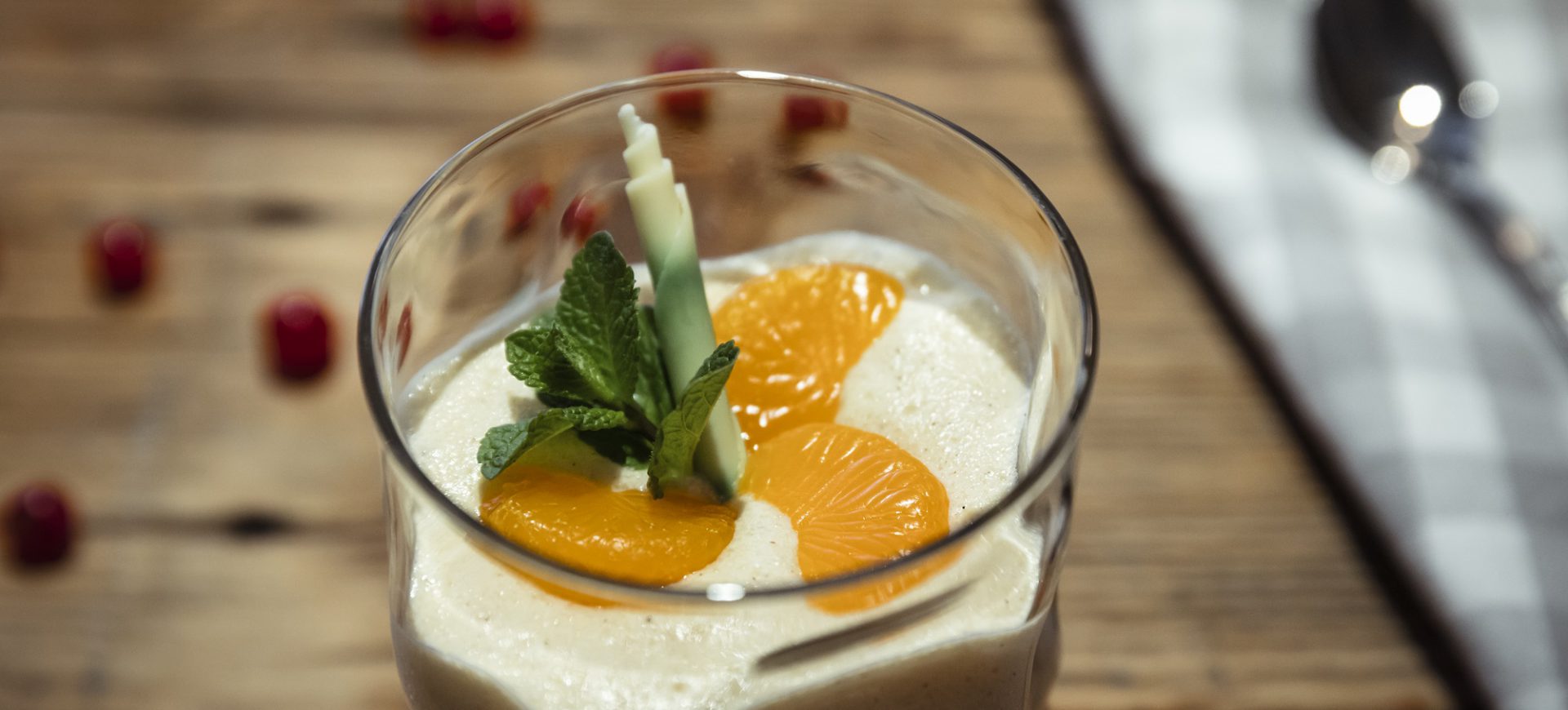 BAYURVIDA® cuisine with Sascha Horst
Healthy. Varied. Delicious.
During his specialised training as an Ayurveda cook in 2013, Sascha became fascinated with exotic cuisine and discovered its rich diversity. Ayurveda strives to restore harmony of our mind, body and soul. We need three different doshas to achieve this: Vata, Pitta and Kapha. A dosha is a spiritual and physical basic pattern, of which every one of us has components inside ourselves.
Despite the delicious Ayurveda recipes, Sasha needed some more regional ingredients for our guests at Staudacherhof – after all, we are in Bavaria. We think it was meant to happen: During this specialist training, Sasha met  Andreas Hollard for the first time. Andreas Hollard is more than an Ayurveda specialist: he actually developed it further to create Bayurvedic cuisine. In the process, he drew on the principles of Ayurvedic theory of health and combined these with traditional Bavarian regional cuisine.
In BAYURVIDA® cuisine, only tridosha is cooked, which means that all 6 flavours are included in accordance with the following percentages: Sweet: 60%, Sour: 15%, Salty: 15%, Hot: 5%, Bitter: 2.5%, Tart: 2.5%.
In order to get this combination right, it's important to know how the various foods are processed by our body. This is because the only foods that are permitted are those that our body is able to excrete. A culinary challenge that Sasha is ready to meet, he tells us. By the way, BAYURVIDA® dishes are by no means vegan – meat and fish are common ingredients in his recipes. It's the right combination that counts.
Where will all of this lead?
Peter Staudacher was instantly impressed by BAYURVIDA® cuisine, so whenever he came up with a new idea, he would go to Sasha who would then whip up a platter of rarities like BAYURVIDA® pralines or BAYURVIDA® Bratwurst that was ready for tasting the following day. But Sasha also gets ideas from elsewhere, in his daily surroundings: "[…] like maybe I'd be eating bread dumplings at some friends' house, and then I would think to myself, why not make some BAYURVIDA® dumplings […]". He had barely set himself a goal, and there he was already experimenting with his new creation. And when Sasha calls a product "the first test", we samplers find it to be sumptuous heaven on earth!
One of Sascha's hallmarks is that he just can't help trying out new recipes all the time. Like the BAYURVIDA® recipes that are especially suited for a Thermomix appliance that he is currently working on. Just to mention sweet & sour tomato soup or potato soup as examples.
He and Andreas Hollard share ideas regularly and even carry out joint projects occasionally. During the Yoga Retreat weekends, Sascha and Andreas are both in the kitchen cooking and they spoil our guests with the ultimate BAYURVIDA® 6-course meal in the evening after Christine Hollard has worked with the guests to balance their mind, body and soul with special Yoga exercises during the day
We are the only hotel/restaurant that is authorised to serve BAYURVIDA® cuisine in Garmisch-Partenkirchen and the vicinity and would look forward to giving you an opportunity to savour our BAYURVIDA® specialities!
Without a doubt, an excellent and delicious alternative!