our unique and holistic lifestyle
"It is time to combine our knowledge and skills with traditional products and thus to be creating something unique", says hotelier Peter Staudacher.
BAYURVIDA® is a holistic life concept – the sustainable interaction of good food, yoga and Ayurveda. Main pillars are: balanced BAYURVIDA® cuisine, Ayurvedic treatments with high-quality oils, yoga with local elements, burnout prevention, natural-based cosmetic lines and guided hikes.
At Staudacherhof we want to create an atmosphere that moves and touches, animates you to let go. When used properly, certain foods can have a real healing effect. The local touch and the down-to-earth aroma of regional products are very important to us.
Ayurveda means to devote more time to cooking, to appreciate food and to fully enjoy the intense pleasure. We cook with love, because only  this way we are able to create real soul food. We want you to feel good, light, vibrant and full of energy.
As part of the preparation of his BAYURVIDA® meals, our Ayurvedic nature chef Sascha Horst focuses entirely on seasonal and regional food. Unlike the traditional concept, BAYURVIDA® also includes meat and fish on the menu. In the kitchen of the Staudacherhof ayurvedic spices are best refined with local counterparts. We cook in the balance of the three doshas "Vata", "Pitta" and "Kapha" and the six flavors sweet: 60%, sour: 15%, salty: 15%, hot: 5%, bitter: 2.5%, tart : 2.5%. Tasty and easy to digest, that is how our BAYURVIDA® dishes should be like!
Our yoga teacher and Ayurveda therapist Cristian Zanfir completes the concept with the yoga practice to restore the physical and mental balance. We want to make your stay an all-round enjoyment. The goal is to gain complete awareness through a relaxed atmosphere and a soothing environment. Awaken all spirits, here and now.
From arrival to departure: Unwind underneath the trusted hands of our experienced ayurveda masseurs, relax and stretch your body with our yoga masters, enjoy the sensual compositions of our holistic ayurveda natural cooks, who conjure up unique creations.
Bayurvida® – Holistic health
Ayurveda meets Bavaria and merges into a very special lifestyle: with us at the Staudacherhof!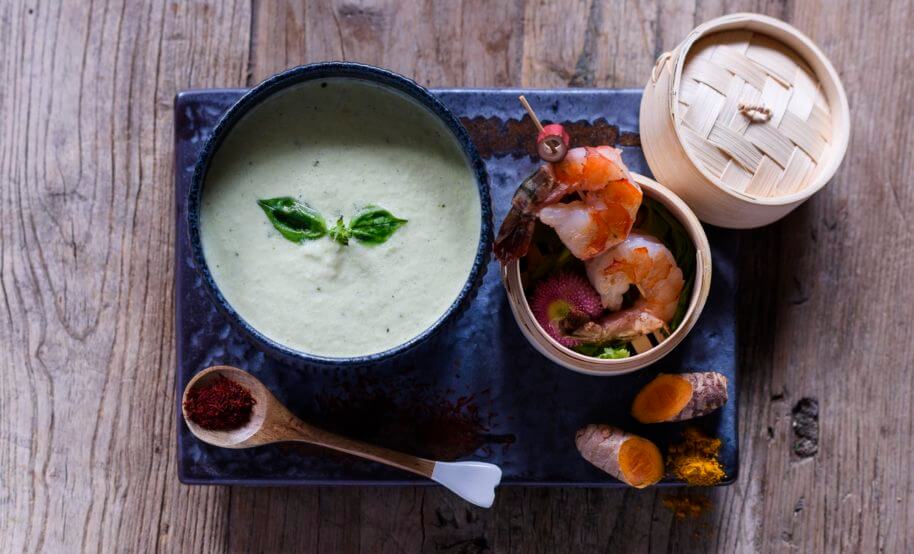 Let yourself fall – into the trusted hands of our experienced Ayurveda masseurs. Relax and stretch your body with our yoga masters. Enjoy the unique, delicious compositions of our holistic Ayurvedic natural chefs.