Cheerful. Sudorific. And more.
Finally, it's here. The perfect season for adventure in the Alps. Way up high. Conquer peaks. Inhale the alpine air. What better time than in summer. Or roam about, down in the valley. Also beautiful. Lush green. Cool water. Experience nature at its best! Come all, big and small. Young and old. Work up a sweat or relax. The diversity of summer in Garmisch-Partenkirchen makes visitors spoiled for choice. A choice from the best!
Silent forests. Mountain meadows in bloom. Romantic lakes and rushing, bubbling mountain streams. Crowned by majestic peaks. A picture-book landscape. Amidst the most magnificent peaks in the Bavarian Alps. The Wetterstein mountain group. Its neighbour, the Karwendel mountains. A mecca for memorable hikes. A network of hiking trails of over 300 km (186 mi). Some perfect for taking pictures and lingering. Others challenging, but rewarding. All with ample opportunities for refuelling. In one of the cosy "Almen" restaurants in alpine pastures or "Hütten".
The Included Extra for our guests
We even loan our boss out to you for the day – as your hiking guide! A different hike every week. As a local, Peter Staudacher knows the best places. Every Thursday, until November 29th.
Hiking and yoga. We are offering that in combination. Fit and relaxed in the mountains. Together with our yoga teacher Cristian. Try Wanderyoga yourself! Every Sunday, until 30th September.
Follow him over hill and dale. Not always easy, but with Nordic Walking sticks, no problem. We'll be glad to lend you a pair – at no extra charge!
And if you get hungry on the way. Or find a romantic alpine meadow for a picnic. You will be perfectly prepared with our Picnic Rucksack. Price: € 30,- for 2 persons.
Mountaineering & rock climbing
The Zugspitze. The Alpspitze. Just two of the big names in this magnificent mountainscape. A paradise for alpineers. Step by step, hand by hand, until the summit is reached. Up cliffs. Over ridges. Along challenging routes. Such as the "Jubiläumsgrat", the ridge leading to the top of the Zugspitze. Or up one of the protected climbing routes known as "Klettersteig" or "Ferrata". The Alpspitz Ferrata, for example. A challenge rewarded with spectacular vistas. That can be enjoyed by skilled climbers and novices alike. The Alps. Truly fascinating. With breathtaking scenery. You may be interested to know: indoor climbing is also available. In the DAV Bouldering Hall of Garmisch-Partenkirchen. No need to miss out when the weather refuses to cooperate…
More than driving and putting. On these picture-perfect golf courses. Against the stunning backdrop of the Alps. Tee off with a view of the Zugspitze. Germany's highest peak. Who can outbid that? Choose from the best: for example, the Garmisch-Partenkirchen Golf Club and the Werdenfels Golf Club are right at your doorstep. 21 more courses can be reached in an hour or less. Discover the ultimate joy of golfing in the Alps.
The Included Extra for our guests
You left your golf bag at home? No problem. We will be glad to lend you the necessary golfing equipment.
And help make arrangements. To top it off: we offer discounts on green fees. 20% is what you get as our guest. On the courses nearby.
We never cease to learn. Which applies to golfers, too. How about a private lesson from a pro? We will be glad to help make arrangements. Prices are available on request.
In white water, in calm water. Through narrow gorges. The sheer joy of adventure. With fun and excitement. Memorable moments on crystal clear alpine streams and rivers. Team work on the raft while manoeuvring through the rapids. Maximum safety while repelling down waterfalls. Caution: risk of addiction!
Immerse yourself. In cool water. Where it is most beautiful. In the fresh, crystal-clear water of a mountain lake. In Garmisch-Partenkirchen and surroundings, you are spoiled for choice of lakes. Pflegersee, Riessersee, Geroldsee, Eibsee – one more stunning than the other. Picture-perfect natural swimming pools for a day of relaxation while refreshing and sunbathing. Naturally, with the magnificent panorama of the Alps always in sight. Summer at its best!
Calm lakes. Bubbling streams. That's where they like it best. The fish that the fishermen catch in the lakes and streams around Garmisch-Partenkirchen. With the requisite patience and skills. And of course, the required fishing license. With these ingredients, you may look forward to a delicious fishy meal in the evening!
Flyyyyyy! You don't have to be a ski jumper to fly in Garmisch-Partenkirchen. In the summer, everyone can lift off here. Enjoy the sensation of gliding through the air. And landing safely afterwards. The Flying Fox can make that come true. A lightning-fast descent. Well secured by a steel cable. Shoot through the air over a distance of 270 m (886 ft). The ultimate thrill and excitement. Coupled with great fun. For young and old, large and small. Because everyone was born to flyyyyyy!
Sledding in the summer? Of course. You don't need snow to go sledding in Garmisch-Partenkirchen. All you need is the Sommerrodelbahn. Right next to the Ski Stadium. Twelve curves in a length of 850 m (2789 ft). That sounds like fun. And speed. Charging towards the bottom at up to 60 km/h (37 mi/h). But no worry, safety is ensured by regular maintenance and checks. And more, you can descend at a slower pace if you prefer.
Time to celebrate! With all that goes with it. Festive processions, traditional costume groups, local Schuhplattler dancers. And of course, beer tents and regional music. Traditions and customs that have been practiced for over half a century. And are still practiced today. A festival every year. First in Garmisch. Then in Partenkirchen. Perfect opportunities to join in and celebrate.
Garmisch-Partenkirchen celebrates classical music. In honour of the great composer, Richard Strauss. Exceptional sound experiences. International orchestras. And some of the most famous voices of the classical period. An extraordinary festival that draws music fans from all over the world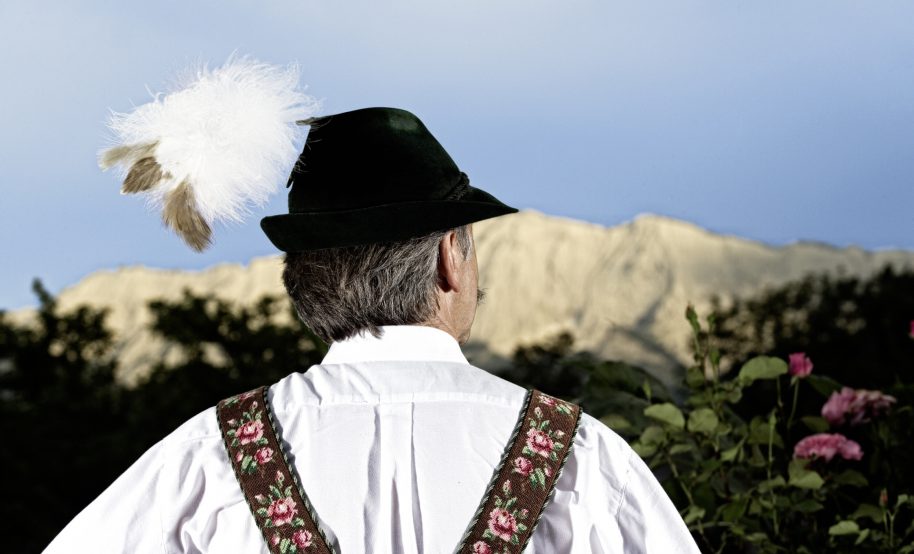 Summer solstice bonfires in the mountains. On the longest day of the year. The mountain tops all aflame. An ancient custom. We, too, will be celebrating! With a "Johanni" bonfire right in our garden. And you can join in. Admittedly: ours is not as spectacular as a bonfire on the top of the Zugspitze mountain! We make up for that with a sumptuous barbecue. With food and drinks until 10 p.m. or later. Our spa and garden area stays open late, too. Definitely a must-do!
Your Summer. In Garmisch-Partenkirchen.
Let yourself be inspired. Enjoy the summer in Garmisch-Partenkirchen à la Staudacherhof.
Pleasure. Recreation. Enjoyment. And lots of fun.
Healthy Biking
Biking is healthy. Regardless of whether classic or electronic. And with us, in the fantastic mountain landscape, the good air alone clears the head and the body healthy! The weather is right, the bikes are ready. Nobody has to sit still in Garmisch-Partenkirchen. With over 454 km of signposted bike routes. From a relaxed family tour to a mountain bike challenge with personal altitude record. Are you already in the mood?