Picturesque. Blossoming. And more.
Finally, spring is in the air! Catch the bug, the spring bug! Time to step outside. Breathe in the scents, see the beautiful colours. Enjoy living diversity. There is so much to do and see. For those who love to be active, indulge, discover and seek adventure. Just the two of you, the whole family or all alone. Recharge in the sun. Every day a bit warmer. Every day a bit longer. Our life energy is reawakened. So off we go!
The lush green of spring. Clear, fresh mountain air. The perfect time for a new fitness program! For example, with Nordic walking or jogging. Our heart feels light. Our head is clear. Our whole body feels revitalised. How good to be in paradise, in Garmisch-Partenkirchen. Surrounded by the magnificent mountain scenery. Boundless trails waiting for us. Some short and leisurely. Others longer and more challenging. It's your choice. No need to take the same trail twice – unless you really want to, of course.
The Included Extra for our guests
Perfectly equipped. For the mountains. With Nordic walking poles and a backpack. We will be glad to lend you both. As a service of the house. At no extra cost.
Cycling, on-road & off-road
Time to get into the saddle. And start the new season. In and around Garmisch-Partenkirchen. Through the beautiful Werdenfelser Land region. Past meadows in bloom. Picture-perfect lakes. Through peaceful forests. With the majestic mountains always in sight. From a leisurely family ride to a challenging all-day ride. With a total of 454 km of signposted routes, you will be sure to find everything a cyclist's heart could desire.
The Included Extra for our guests
Guided bike tours. Different routes. Individually customizable depending on weather conditions and fitness level. To the Partnachklamm. To the Eibsee. Or to the Murnauer Moss. With our sporty Cristian: every Friday, until October 31st.
Real comfy. And fun – go for it! The e-bike. Whether city or mountain bikes. Ours can be rented for € 30, – per day.
Paragliding & hang-gliding
Feel free as a bird. Get an eagle's-eye view of Garmisch-Partenkirchen. Glide silently through the skies. Admire the gigantic backdrop of mountains. A mecca for all who have succumbed to the fascination of flying. Some of the best mountains for gliding in Germany can be found here. The Wank mountain. The top of the Osterfelderkopf or the Hausberg. You can take off from these and many other mountaintops. By hiking up or taking the cable car. And if you're a newcomer: try a tandem flight! More serious flyers can get a pilot's license.
Explore Garmisch-Partenkirchen and its surroundings. Cover ground. Almost effortlessly. The feeling of hovering over the ground. Sensational. All this you can do on a Segway. An electric scooter steered by merely shifting your weight. Sound exciting? It is! With lots of fun and great sights to see.
Go on a modern scavenger hunt. With a GPS device. An exciting search. And surprising finds. While discovering secrets of nature. Following hidden paths. Exploring alpine forests. Making sure not to lose sight of the coordinates. That lead you to the logbook. And the hidden treasures. Good news for Geocaching novices: We have GPS devices available on loan.
Fun and adventure all in one. For heroes of all ages. After all, it takes a generous portion of courage to climb in the treetops. While following the different high ropes courses. 13 in all. Yikes! It's a long way down to the ground. Thankfully, though, everyone is wearing a harness. So nothing can happen. Not only that: There's the right ropes course for everyone. From very easy to extremely difficult.
Discover, learn, admire: Art, customs, traditional handicrafts and more. The museums in this region are treasure chests of knowledge. The Aschenbrenner Museum takes you into the world of dolls, porcelain and nativity scenes. This gallery belongs to the market town and has changing art exhibits. There is so much to learn about Richard Strauss. That's why a whole institute has been dedicated to this famous composer.
The church village of Wamberg
A picture book village that takes you back a century or two. Simply awesome. Original architecture. Magnificent panoramic vistas. Make sure to take a look at the interior of the church. The high altar and the inside of this historic church are of exceptional artistic quality. A most rewarding trip into a true wonderland. That can be reached by taking the Eckbauer lift. Or even better: on foot. On a very scenic trail.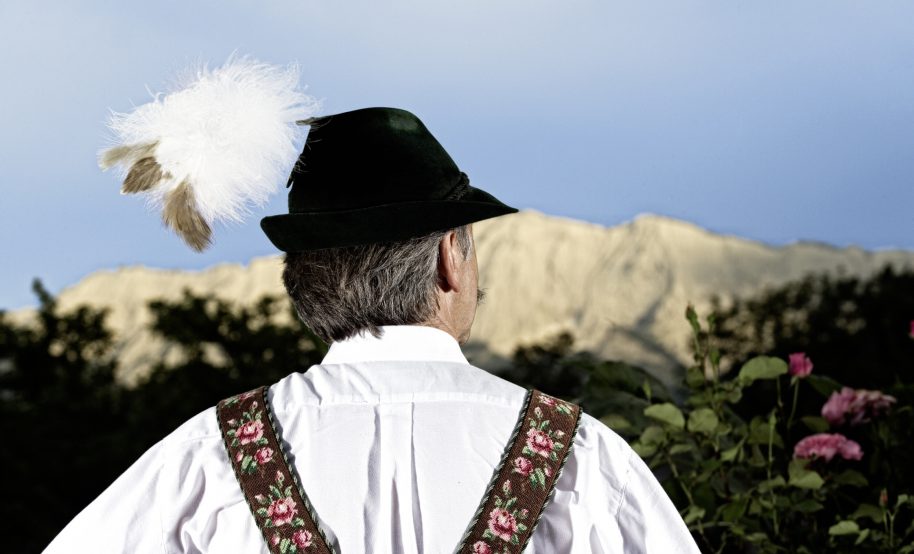 Your spring. In Garmisch-Partenkirchen.
Let yourself be inspired. Enjoy the spring in Garmisch-Partenkirchen à la Staudacherhof.
Pleasure. Recreation. Enjoyment. And lots of fun.
Lovebirds
Long Live Love: stop to take a deep breath and remind yourself that love is more important than all those daily chores and commitments. A sweet farewell kiss, a small flower on the table… my goodness, that was all ages ago! We at Staudacherhof know all too well how important time for just the two of us is. That's why we are offering you and your sweetheart the perfect opportunity to get away from things.